On Independence Day, we bring to you the fascinating account of DR JAWAHARLAL VAID's journey out of Pakistan in 1947 after his Class 12 exams to begin college studies in India. Despite those dark, turbulent times, he completed his PhD in Electro-Chemistry from the prestigious Indian Institute of Science, Bangalore
---
Resilience or rather a 'never-say-die' spirit is a rare commodity, especially today. All one hears are whining complaints about the myriad challenges life throws up on a daily basis—even a global pandemic elicits an initial self-pitying, 'why me, why now, when will it stop' response from most people.
I want to share the story of a person who never uttered any of these phrases over a remarkable 90-year life—my own father, Dr Jawaharlal Vaid.
Had I not embarked on this project, I might never have known the enormous fortitude and courage with which he faced hurdles, starting from the age of four when he lost his mother to tuberculosis.
This was followed by a childhood that might seem like fun in retrospective reading but was full of uncertainties and deprivation, often even of basic needs. Financial insecurity meant no means of higher education, no guidance and no pathways available to walk on—and yet Dr Jawaharlal Vaid managed to reach the country's highest seat of learning then and now, the Indian Institute of Science, Bangalore, to complete his Masters and PhD in electro-chemistry.
But that is just part of a fascinating journey from Punjab to Lahore, Delhi, Hoshiarpur, Pune, Bangalore, Calcutta and back to Pune. What of the internal journey of conviction and courage?
What inner strength drove a 17 year old boy to come to Delhi with Rs 100 in his pocket and decide to study further? What kind of self-confidence later prompted him to decline guaranteed safe jobs and look for challenging new avenues to succeed in? What made him fearless and take risks when everything was at stake? The resilience I so admire, stems from rising up after every one of the hard knocks of the past.
For Dr Jawaharlal Vaid, the future was never something to be fearful or wary of; it was just another new opportunity waiting to be seized with both hands.
My father's story is described in his book, A Self-Made Success Story: Memoirs of Dr Jawaharlal Vaid.
Minnie Vaid – Author, film maker
Lahore and Partition
After matriculation, Father sent me to Lahore to pursue engineering and science. Kanwal (my elder brother) was already a student there. I had no choice and I did not know any better either—we had no electricity or radio in our home, no exposure to the outside world.
And thus I made my own way to Lahore where my admission in Dayanand Anglo-Vedic (DAV) college had been done—it was the first time I travelled alone on a train.
I alighted at Lahore station and took a tonga costing 3 annas (or 20 paise) to the college which was very imposing looking, with large gates and high walls, almost like a fortress.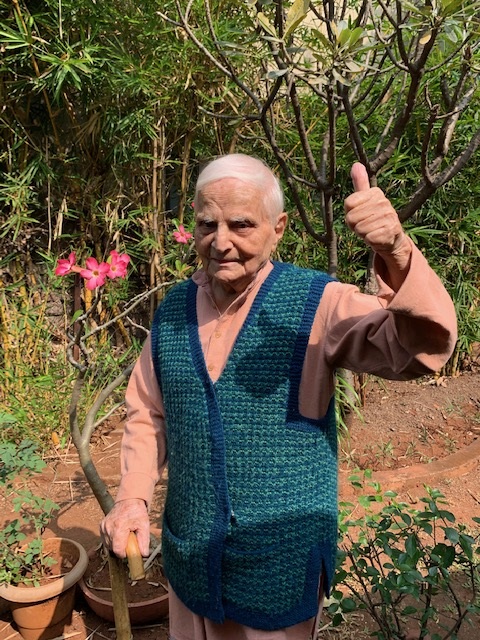 DAV college was interesting. Attending the havan (prayer) daily at 6.30 am was compulsory, your attendance was marked; some boys would mark it for others. We would mostly sleep through the prayer, using the wall for support and then go get ready. There was no concept of breakfast, we had a lightly buttered bun with tea or lassi, depending on the season….
And then the talk of Partition began…we read about it in the newspapers, that people would be divided with separate government, separate representatives. Frankly it didn't matter much to us, we continued our studies. But then came the reports of terrible atrocities happening before Partition, images of Calcutta, Peshawar, Noakhali, the bloodshed over Hindu-Muslim identity.
Incredibly enough our studies continued irrespective of all the mayhem and chaos around us. Exams were still being conducted because Lahore was a great education centre, notwithstanding Hindu or Muslim or Sikh identities.
My last exam for my 12th standard was on August 8, 1947. I returned to my hostel to find Kanwal missing—he was active in Congress politics in those days and had been staying in my room as a guest for a few days. The hostel gates used to be shut due to the riots in the city so I went and inquired at the gate about my brother and was told he had not been seen since morning!
After a sleepless night I gathered my belongings—just my clothes, leaving my bedding in the room—into one small bag and set out to go home. There was no tonga, no transport so I walked on the main roads which were being policed and therefore riot-free, and reached the railway station around 2 pm.
---
Inspirational Quotes from Dr Jawaharlal Vaid's Memoirs
 'In any do-or-die situation which came my way several times in my long career the answer to the question 'Can I do it?' was always 'Yes'. You have a chance to fight if you ask. If you don't try you will achieve nothing'.
 'Never accept anything for what it is, there is always a better, faster method. There is nothing like a fixed method, there is always an alternative. And every alternative can be better than the last one'.
'I have lived my life well, honestly and with great joy and fulfilment. Given a chance I would like to lead a similar life again. That is a tribute which I have to the present, to everybody'.
---
I sat in a Delhi-bound train which stopped at Kotkapura and began walking home; a route which usually took five minutes or so took me more than half hour! I kept worrying about what I would say if Father asked me where Kanwal was but as soon as I reached my home I heard Kanwal's voice inside. I felt such enormous relief that I burst into tears and cried hard. And that was my last memory of Lahore—fires and bullet sounds and deserted roads, a far cry from the beautiful city that I had arrived in to study two years ago.
Once in Kotkapura I did not know what would be the result of the exams I had just given in Lahore, would we be informed if we had passed, what would happen to us? The 12th standard exam was still the yardstick of admission to engineering colleges, medical colleges and other places. The country had been divided, offices and people divided and we did not know if we had in fact wasted two years in Lahore and would need to repeat them—I thought I will not study further and instead help Father in the brick kiln.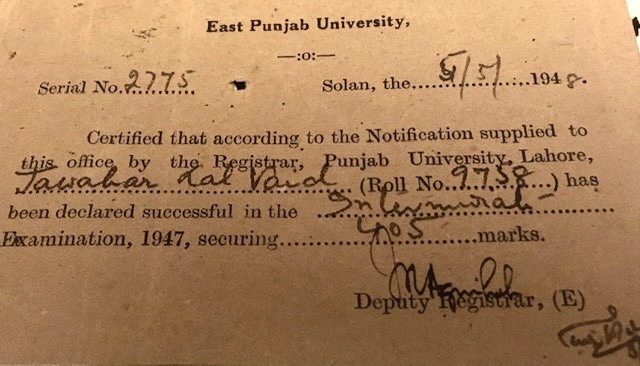 I waited and waited for my exam results. There must have been thousands of other boys and girls like me who had given their exams and then moved from one side of the border to the other after Partition. We had no idea when and how we would know our examination results. We had lost all hope. Then one day in May 1948 I got a printed postcard with my results, saying I had passed with distinction. Just a printed postcard with a signature, that was my certificate. I don't know how they found my address, but it was a godsend. I salute those educationists in Lahore who sent the results of the students who had migrated to this side, to East Punjab University, Solan.
…Nobody had expected that in the midst of all that carnage, after all the bloodshed, that my result or certificate would be sent. And even though it was just on a postcard, it was still a valid certificate! I showed it to Father and said I wanted to study further.
1948
I landed in Delhi one morning, a 17 year old boy who hadn't experienced life and didn't know where to go, what to study, or even where the University was in Delhi! I washed my hands and face at Delhi railway station, ate some food and proceeded to Delhi University in a tonga. I wanted to pursue Physics.
It must have been around 11 in the morning when I reached the Physics dept and met its head Professor Nanda. I showed him my 12th standard result card certifying that I obtained first division with distinction from DAV College, Lahore of the Punjab University. He told me I might have got admission since my marks were good but it had closed three months ago. He asked me to try again the following year.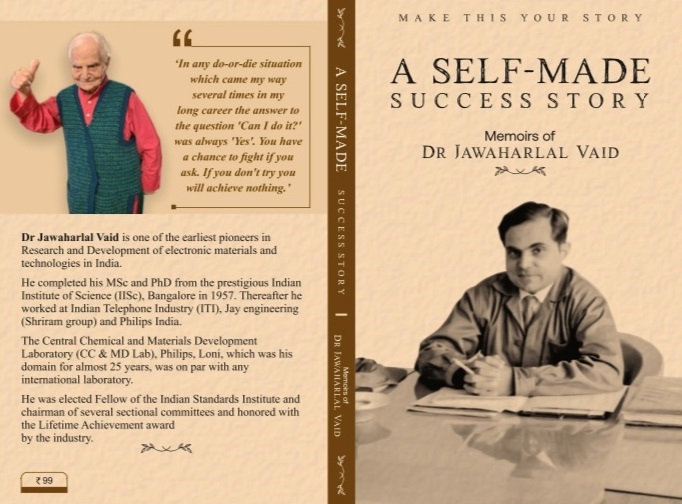 So I came out of his office and sat down on my small bedding in the long corridor outside, not knowing what to do next. As I sat there—I don't know for how long—a Sikh gentleman dressed in all white, including a white turban and shoes, passed by me. He retraced his steps and came back, "Who are you child and what are you doing here?" I told him, "I am from Kotkapura in Punjab and have come here to study Physics after completing 12th standard from Lahore, but I can only do so next year so I am wondering if I should go home". He answered in Punjabi asking me how I managed to survive the Partition. I said I gave the exam in Lahore on August 8, 1947 and somehow came to India. The results were announced later and I showed him the certification card I received from Lahore….
He then advised me to do chemistry honours—he was the head of the chemistry honours school in Punjab university and his name was Sardar Niranjan Singh. I replied that I would be happy to do so; indeed he was God's messenger for me at that time, showing me the path to follow.
And that is how I joined Chemistry Honours School of Punjab University which was situated temporarily in that Delhi University campus. Our classes were held in the afternoon for a few hours. There were no separate classrooms for us.
I want to share the memory of one day—it was unbearably hot at 2 pm in the afternoon. As Sardar Niranjan Singh continued to teach us the day's lesson, the boys at the back of the classroom fell asleep, lulled by the cooling fan overhead. The rest of the class in the middle and front rows—where I was sitting—also followed suit. The teacher quietly removed his shoes and tiptoed out of the class when he saw that all of us were fast asleep, tired out by the heat and our efforts to get to class.
We realised our mistake quite soon and ran after him, falling at his feet and apologising profusely. To our amazement we saw tears in his eyes, he said "I am not angry, I am sad and full of compassion and pity for you students. It is a shame that our Punjab university has to conduct classes like this, stealing a few hours in the afternoon in some other campus! When the chemistry, physics, biology depts were in the resplendent Lahore campus, life was so different and now our students are so tired that they fall asleep in class."
---
Excerpted from the book, A Self-Made Success Story: Memoirs of Dr Jawaharlal Vaid.
The book will shortly be available on Amazon Kindle. For further queries contact minnievaid@gmail.com
Featured Image: Dr Jawaharlal Vaid in his younger days
Dr Jawaharlal Vaid is one of the earliest pioneers in Research and Development of electronic materials and technologies in India. He completed his MSc and PhD from the prestigious Indian Institute of Science (IISc), Bangalore in 1957. Thereafter, he worked at Indian Telephone Industry (ITI), Jay engineering (Shriram group) and Philips India.
The Central Chemical and Materials Development Laboratory (CC & MD Lab), Philips, Loni, which was his domain for almost 25 years, was on par with any international laboratory. He was elected Fellow of the Indian Standards Institute and chairman of several sectional committees and honoured with the Lifetime Achievement award by the industry.