On the occasion of Basant Panchami (also called Saraswati Puja) today, SHASHI DIP pays a heartfelt tribute to Goddess Saraswati who blesses us with knowledge and wisdom
As I start penning this article, Goddess Saraswati is not only bestowing wisdom on me, but, I feel, she is seated next to me and dictating each word that I write. I am just Her channel to spread the good word. I have been worshipping Her since I was six years old.
I vividly recall in our growing up years at home there was always a peaceful ambience, which fostered learning, reading a lot of sacred books, writing, prayers, singing, playing musical instruments and to top it all, interesting and insightful discussions with our parents and elders in the family.
I belong to a very big family of 11 children and my father was the life coach of all of us that included cousins. We were a happy joint family. My parents especially my father's main priority was we, children. He believed and practised holistic parenting and guided us to use our full potential.
That's the reason why our top priority was always learning ― imbibing knowledge and wisdom ― and it continues till today. Our home was almost like a Gurukul where we did not rest in any comfort zone and we were honest and outspoken.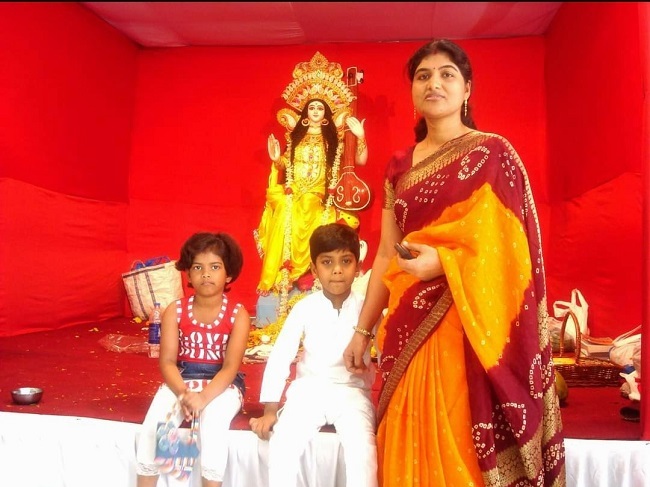 The Five Qualities of Students
Vidyarthih panch lakshanam (the five qualities of students) was strictly followed. These included:
1 Kaag Cheshta (Perseverance like a crow),
2 Bako Dhyanam (Concentration of a swan),
3 Swan Nindra (Light sleeper like a dog),
4 Alp-ahari (Light eater), and finally,
5 Grih Tyagi (Less involvement in home matters).
Still neither mentor nor children felt stressful. It was certainly because Goddess Saraswati or knowledge was given first and foremost importance. My father used to even cancel his important meetings when we needed him ― no doubt was unresolved, no matter was stifled.
Ours was a typical middle class family and my father was in a government job. The family income was supplemented from our farm produce and ancestral property. But nobody ever felt disappointed and disheartened by the limited quantity of Lakshmi, because Saraswati was always in abundance. We being a family of staunch believers in Vidya, knowledge, wisdom and scholarly pursuit were treated with utmost regard.
Our prized possessions were books, notebooks, pens, stationary items; and prizes, accolades and honours from our family elders were countless and our real source of joy and strength. The most significant part all this was the magnetic influence it exerted on other students of learning. Our home attracted learners and listeners from the neighbourhood in abundance.
Many neighbourhood children used to visit us to enjoy the ambience of learning. Those with mental, physical disturbances, relationship issues and other life problems used to drop in to seek some solution to their problems through positive talks of wisdom at our home.
When I moved to my husband's home after marriage, I took with me my enthusiasm for knowledge and learning. Both of us have never gone after money. We have been living a simple, content and spiritually inclined life with knowledge as our priority. Perhaps that's the reason why children of all age groups love to visit us at our home. They love the ambience of learning and the encouragement, attention, and guidance we give them, thanks to Goddess Saraswati.
I would again like to emphasise that I am only a channel for Goddess Saraswati. Learning is a life-long process. and Goddess Saraswati has enriched my life. I am merely sharing Her gifts and blessings. I was raised with the belief that once you have Saraswati, all else will follow and I have truly witnessed it. We were taught to pursue Vidya with devotion and love and I am teaching this to my children as well.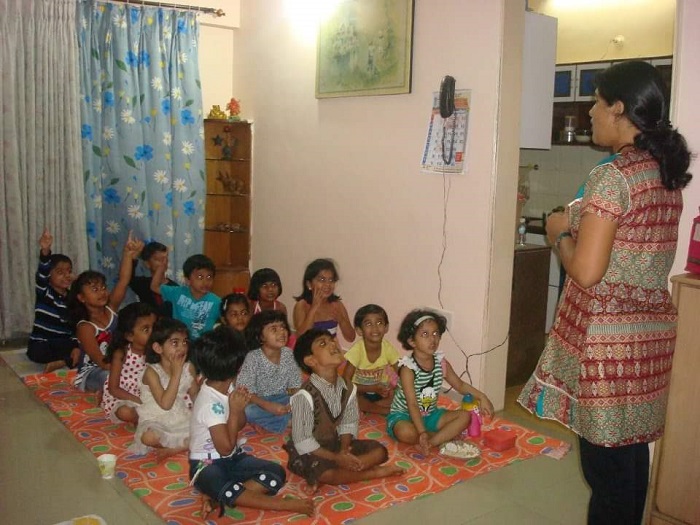 Today most people have moved so far away from Saraswati and power and money (Lakshmi) is given more importance. Even schools and colleges, so-called temples of knowledge have slowly been converted into business centres. Our scriptures suggest that Goddess Saraswati is Lakshmi and Durga's elder sister; that means once you acquire knowledge, both wealth and empowerment will follow. Wisdom, indeed, is the greatest wealth.
Money is needed to fulfil necessities, and other endless desires and luxuries in life. Intelligence and knowledge is required to acquire an ability to navigate a tense situation, to communicate effectively, and to influence the people you're talking to. Wisdom has played an important part in human evolution. Without wisdom acquired and passed down over the years and centuries, it is likely that most of us would not be able to survive today.
I have been a Saraswati Sadhak, and a writer/thinker by Her grace. I worship her 24/7, and on the occasion of Basant Panchami today, I feel soaked in gratitude.
Wisdom is not found in the theories that are written in books, or in the curriculum in schools and colleges. Wisdom helps us to shape our life. When wisdom is our companion, we can go through all sorts of pleasant and unpleasant experiences of life with equanimity; and like the lotus flower, our soul is unsoiled by the dirt in its surroundings. May Goddess Saraswati bless us all.
Saraswati Mahabhage
Vidye Kamalalochane
Vishwaroope Vishaalaakshi
Vidyam dehi namosthuthe
---
(Featured Image: Shashi Dip (left) with her children and a friend, celebrating Saraswati Puja in 2020)
Shashi Dip is a thinker, bilingual writer, poet, columnist, social activist and an author of the book 'Waves Within (Horizon and Beyond)'. She is associated with various literary associations and has written more than 200 blogs, 500 quotes in Hindi/Urdu and English and 100 poems in both Hindi and English.