DEEPTI ANIL discloses the wonders of til, a treasure trove of nutrients and B vitamins
Sesame seeds (til) are derived from the sesame plant, one of the oldest oilseed plants in the world. It is extremely resilient and can be grown in a variety of climatic conditions. The seeds are very small in size, and the term 'Open Sesame' famously used in Alibaba and the forty thieves comes from the fact that sesame seeds burst open when they mature!
Nutritional Value of Sesame Seeds
Sesame seeds are highly nutritional as they contain healthy fats, some protein and are calorie dense. These seeds also contain an abundance of B vitamins as well as bone and haemoglobin-building minerals like calcium, copper, magnesium, iron and phosphorus. That makes for a real hidden treasure in these tiny seeds! No wonder the words 'Open Sesame' opens up such a treasure trove!
Sesame seeds are black or white, and the taste differs subtly as the hulls (cover) are still on in the black seeds. In addition, the black seeds are slightly richer in calcium.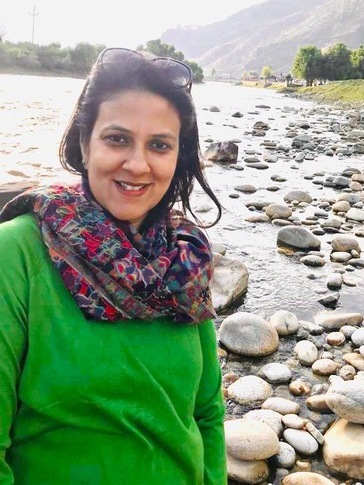 Sesame has multiple health benefits for both young and old as eating the seeds helps to facilitate digestion, keep the heart healthy, reduce inflammation in arthritis and hypertension, help to grow strong bones, prevent cancers as well as promote hair and skin care. Sesame oil is commonly used as a cooking medium.
Through these two easy recipes, you can add til to our diet and benefit from its goodness.
Dry Sesame Garlic Chutney
2 tablespoons sesame seeds
2 tablespoon
6-8 cloves garlic
2 dried red chillies
1/2-1 teaspoon salt
Peel garlic and smash cloves with the side of a knife to flatten them.
Heat a small pan and when hot, add in the sesame seeds to roast lightly. Stir frequently so that the seeds do not get over-brown.
Once the seeds smell toasty and are a light brown, after about a minute, pour them into a plate and spread them to cool.
Add in the garlic cloves and toast until charred but not burnt.
Add these to the sesame seeds and let them cool for 5-10 minutes. Do not grind while hot else the steam will make a paste instead of a dry powder.
Once the garlic has cooled, mix together all ingredients in the plate and grind in a spice grinder.
Use this dry chutney to spice up your meals within a week.
Sesame and Jaggery Squares
200 gms of sesame seeds
200 gm of gur (use small pieces)
2 tsp ghee
Clean the sesame seeds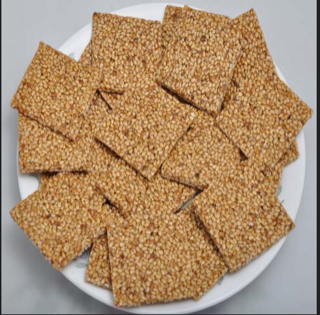 Heat a heavy-bottomed pan and roast the sesame seeds on a medium flame until they are light brown. Do not over roast or they can taste bitter. Allow to cool on a plate, and then grind coarsely in the mixer.
Grease a wooden board.
Pour one teaspoon of ghee into the pan and melt the jaggery pieces into it. Once melted, cook for another two minutes while stirring continuously. Put the ground sesame seeds into it and mix well.
Take the mixture in a ladle and spread it on the greased plate. Make sure that the mixture is hot, or otherwise, you will not be able to roll it on the board. Apply ghee on your hands and spread the mixture on the board, giving it a square shape. Grease the roller with ghee and roll out the mixture increasing its size in the same shape. Cut the rolled out strips (patti) with a knife and then allow to cool.
Once the (patti) cools down, pick up each piece from the board with the help of a knife. Tasty and healthy Til Patti is ready.
---
Deepti Anil is a public health nutritionist and educator at a leading college in Mumbai for the last 22 years. She is also a qualified yoga teacher and therapist.
Featured Image by Enotovyj from Pixabay 
Courtesy: Parijna Patrika