DAGNY SOL is one lucky lady. She lived in the city and would grow a limited amount of fruit trees and vegetables in her house compound. She yearned for a bigger plot of land, eventually settling for a 25,000-sq feet plot in a rural area, next to a forest. Now, she is busy experimenting with being self-sufficient for the family's food needs
We must harvest the mangoes today," I told my farm helper, a knowledgeable and wise man I call Keshav Bhaiya. "Bring a basket and come along then," he said, his eyes twinkling. He knew I would be reluctant to walk across the uneven, craggy field to the young mango tree at the far end of the farm. I had counted fourteen mangoes on the tree a few days ago.
"But why do I need to come? Do you need me to hold the basket?" I asked.
"I want you to touch your mangoes and harvest them with your own hands. This is why you moved to the village; to live on a farm, didn't you? Why would you miss out on the joy of reaping your harvest?" he said. "Let the trees know for whom they produce their fruit!"
The way he said it brought out an army of goose bumps on my arms.
I grabbed a bamboo basket and followed him to the mango tree in the farthest corner of my farm. The fourteen mangoes had grown plump, yet were still firm and green. I will need to wrap them in newspaper for a few days to let them ripen fully, I thought to myself.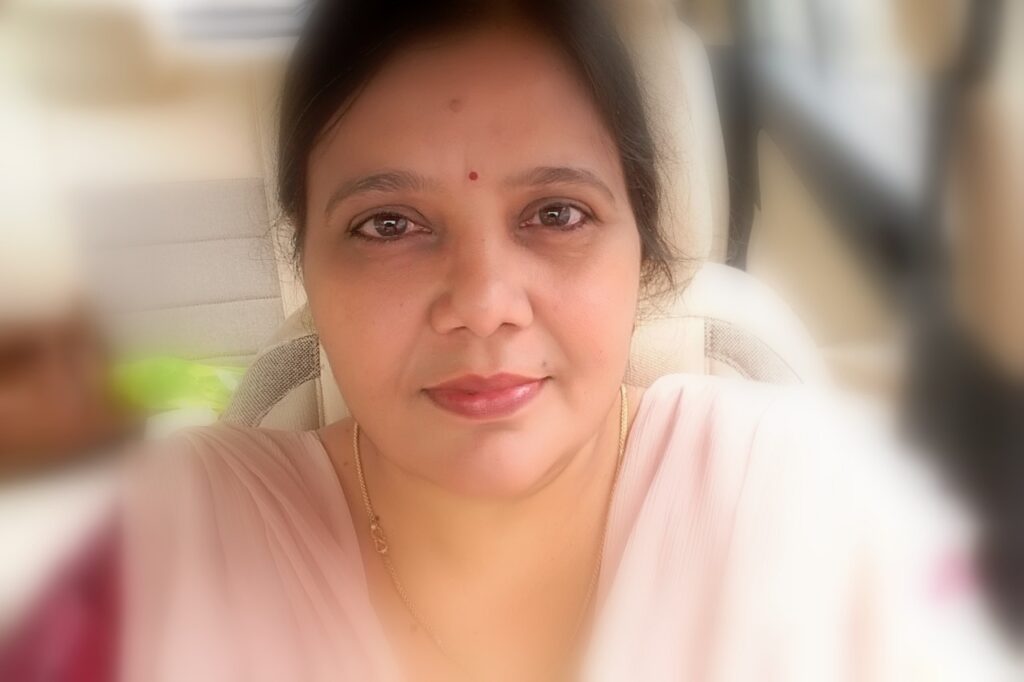 "Go ahead, start with this bunch here," said Keshav Bhaiya, pointing to the largest bunch of three mangoes hanging by a thin stem.
I cannot describe the feeling of holding in my hands, those sun-warmed, superbly fragrant mangoes. It was my first experience, unlike any other. However dramatic it might sound, I felt as if I had replenished my umbilical cord that bound me to mother earth. Overwhelmed, I lowered my head, loath to have my brimming eyes detected by Keshav Bhaiya.
"This is why I told you to harvest your own fruit," said he, missing nothing. I looked up and smiled at him.
People naturally ask me what made me move from the city to a farm in a village – a village that is just a step away from the jungle. I don't have a coherent, logical answer to this question. I don't know why I have been obsessed with the idea of moving close to a spectacular waterfall for over three decades.
It began as a nebulous thought, nothing more than a wishful fancy. Over the years, I wanted to move to a home which had lots of space for me to plant trees. In my old house, I planted twenty-three trees in sixteen years. When I ran out of space in my compound, I planted some outside my compound wall. When that too was filled, I began hankering for a bigger plot of land.
In a divine process of synchronisation, a coming together in which I played no part, I came across the farmland where I have my home now. In my wildest dreams I had not hoped for more than ten thousand square feet. The last one was four thousand. Lo and behold, Shiva has planted me in the midst of twenty-five thousand square feet.
I won't lie. I was scared. But I was also elated. As you can see, the elation won. I did not let my fears take any decisions but listened to my intuition.
I had no idea how close the wilderness was to my farm. That's a lesson I learned after I move in, when it was too late to do anything about it but to grin and bear it.
To show you how wild the place is, here is a list of the wildlife I have seen on and around my farm in the past one year:
Monitor lizards;

Scorpions — one of them bit me and I live to tell the tale;

Snakes — including an old cobra which has his home on the field next to mine;

Pythons — there is one four-foot specimen which lives permanently on my farm. We leave each other alone; me because I don't want it to get peeved and call his daddy/mommy on me; (s)he, I don't know why;

Jackals — who turned out to be rather small animals. My female dog looks more ferocious in comparison;

Hyenas;

The occasional leopard — a local slim variety called tendua in Hindi.
Pretty wild, you would agree, at least to city folk. The villagers don't turn a hair, of course. In fact, one farmer told me not to disturb the eight-foot cobra because, if you please, he's a nice old man! My jaw remains fallen to this day. (#truestory)
Before moving in, I had rosy dreams of hosting cosy get-togethers in the garden, replete with bonfires and barbeques and all that jazz. After my first look at a scurrying monitor lizard, I have wrapped those rosy dreams in tissue paper and vacuum-sealed them — to be opened a decade later, perhaps when the wildlife has moved away from the farm.
And yet.
Wildlife and other difficulties aside (you cannot get house help for love or money), I have never regretted my decision to move to this farm. On the contrary, my heart overflows with the deepest gratitude. I know I got lucky. Shiva has been immensely kind to me. I just hope I deserve this bounty. I do try to be worthy of it in every way I can.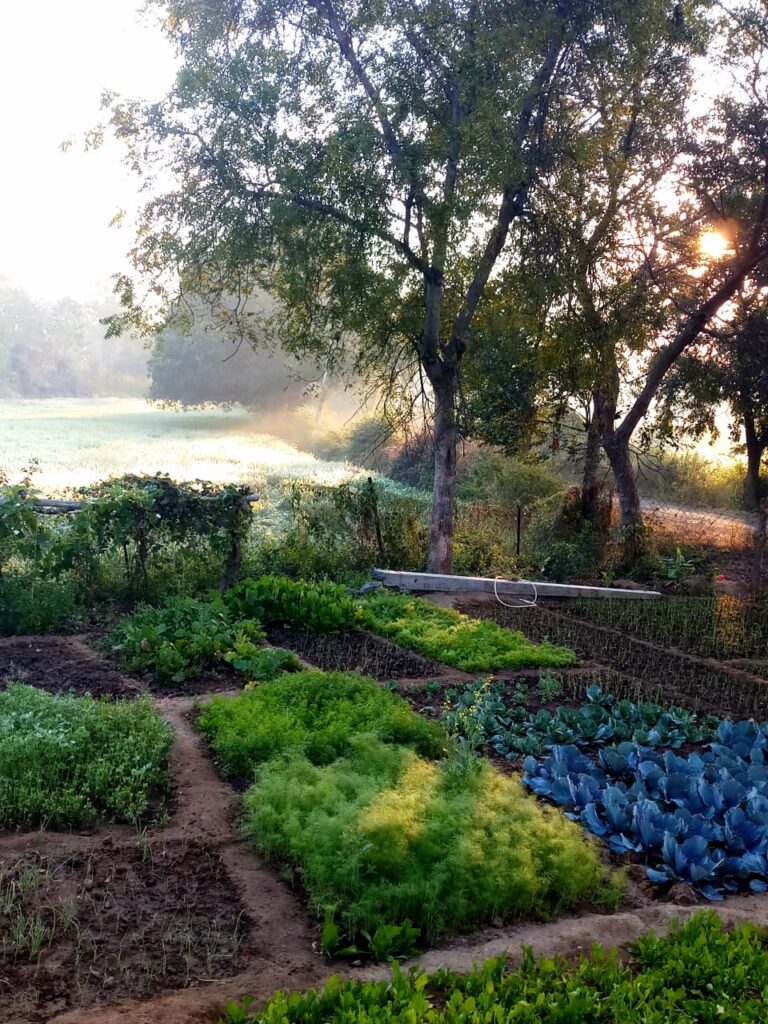 I grow my own food, all 100 per cent organic. The papayas from my farm, ripened on the tree, are of a flavour and sweetness that I could not have imagined. The vegetables are a delight to stir-fry and make a meal of, with one slit green chilli and a couple of pods of garlic. The grain — wheat, green gram and black gram — actually have taste and flavour. I grow most of my own spices — mustard, fenugreek, carom seeds, fennel seeds and bay leaves. I wish I could grow cumin too….
In two or three years, I'll be self-sufficient in fruits. For the past year, I have had to buy neither onion nor garlic. The cherry tomatoes from my farm have an aroma that can knock you off. As for the drumsticks, moringa the super food, I have thirteen trees that I planted myself. Last year, they produced a bumper crop. This year, I look forward to a bigger harvest, since the trees are bigger and older now.
When I sit down to a meal or take the dogs for a walk in the pre-dawn hush, I have a million reasons to explain why I dusted the city off my soul to dunk myself head-first in the beauty and bounty that surrounds me.
Do you think I took the right decision?
---
Dagny is a bibliophile with a deep and enduring love for the written word. A freelance book editor who edits fiction and nonfiction, she is a committed writing coach and storyteller. She is a hands-on farmer and lives on her farm with three adult kids and two dogs.
Her personal blog is at www.serenelyrapt.com and she can be contacted at dagny@dagnysol.com.