SHAILAJA GANGULY remembers the legendary singer MANNA DEY on his Punyatithi and recalls the very personal interaction she had with the warm-hearted singer on a couple of occasions
If any psychic had told me that I will be Mrs. Manna Dey for a few hours of my life , I would have said, sorry your intuition needs a refresher course. But that afternoon, at the Mumbai Central Station, as we were waiting to board a train to Surat, that is exactly what happened, yes…
When Manna da, whom I was accompanying to anchor his fully booked concert, found that my seat was in another compartment with the accompanists, and because his wife had dropped out at the last minute, the warm-hearted and honey-toned human being insisted that I should occupy the lady's high-end seat and since there was no Aadhar needed at the time, I did metamorphose into Sulochana Dey for that memorable ride….
l remember Manna da had a really bad cold and inflamed throat at the time and was grateful for any palliative, including the throat lozenges l always carried…How is he going to rule the stage for 3 whole hours, I wondered, but Whoa! — the moment he stepped into the auditorium and saw people standing in the alleys too, he just dropped his discomfort, let performer's anaesthesia take over, did a heartfelt 'Namaste' to the crowd, opened his harmonium and then drove his fans crazy with joy for the next 4, not 3, hours as planned ….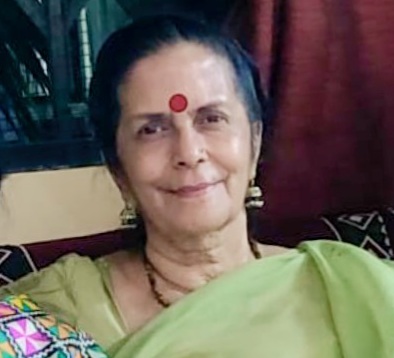 Back in the wings after the evening finally ended, l once again saw the gentle giant's genuine empathy overwhelming a young Bengali bride who had come with her brand new husband to touch her idol- Dada's feet. Come to Mumbai and I will cook a tasty Bengali meal for you, he promised, making her cry with joy..
Next morning, at the breakfast buffet, he turned into a concerned Mommy reprimanding me sternly for picking just two idlis from that burgeoning bonanza. '"Why don't you youngsters eat? How will you get the energy to do everything you want to?" he wanted to know.When we got off at Mumbai , he took us home for lunch and regaled 'Sullu' as he fondly called his soulmate, with stories of how I scribble the relevant connectors between 2 songs, while sitting in the wings waiting for the encores to fade out…
On another concert evening in Mumbai, I was walking off the stage while Mannada was being mobbed as always, but he managed to extricate himself and peering from a sliver of space in that octopian fan embrace, yelled, " Do have a car to take you home?."
Today is Manna da's Punyatithi, the day and month he left us, many years ago.
But tell me, so long as there is yet another velvet voice wanting to sing Aye mere pyaare watan , or Ketakii gulaab, joohi or Poochho naa kaise maine raina bitayee, or any other melody from his immortal legacy, can this evergreen icon ever get erased from the nation's memory bank?
---
Shailaja Ganguly is a journalist, writer, voiceover artiste, anchor for classical music and dance by India's best, and a fitness fiend who loves children, yoga and food. She is the recipient of the award for excellence in journalism from the Kanara Saraswat Union, and the Woman Icon of Navi Mumbai Award from the Smiles Foundation, an Economic Times prizewinning NGO. She lives in Mumbai.