"I learnt the finer points about gardening from my father-in-law," says ANITA SHALEEN who follows a seasonal routine of pruning and manuring for the plants and trees growing in their farmhouse in salubrious Dehradun
It was only after getting married into a family that pursued agriculture and were keen horticulturists since generations that I realised how different life would now be from the city-life that I had been used to earlier.
Coming to live in a Dehradun farmhouse with my husband's family has been an awesome experience. My father-in-law, Ch. Satendra Singh, who had been a veteran freedom fighter also had immense practical knowledge not just of agriculture and horticulture, but also of gardening and it was he who introduced me to several exotic flowers that were grown in our home compound. He could name all the exotic plants and flowers that surrounded our home. He would share his experience of gardening with me, and soon, I too developed an avid interest in gardening.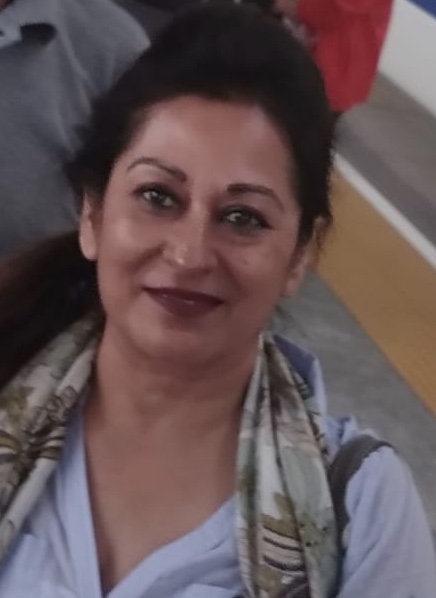 Now that I am not so busy with raising my children, as they are all now well-settled in their own homes, I have begun to invest a sizeable part of my daily routine in looking after my plants and garden. One thing which my father-in-law taught me was that many plants can be regenerated by just stem cuttings, bulb multiplications and seeds. This invaluable knowledge, I now apply every year during the monsoon season and several plants like indrakamal (gardenia), gudhal (hibiscus), and guldavari (chrysanthemum), we simply multiply in our garden through stem cuttings.

Our family is especially fond of the lily, one of nature's most beautiful flowering plants. A variety of lilies grow from bulbs. These bulbs keep multiplying in the soil and they bloom in season. These bulbs can also be transplanted. Our lawns bloom with the ornamental lily in a riot of colours – and everywhere, red, white and ginger lilies adorn the house. It's a beautiful sight when row after row of lilies bloom together in season.

One of my personal favourites is the parijat tree which is considered a sacred tree. It is even called a a tree of paradise and its tiny white and orange flowers which bloom in the night have a mesmerising fragrance. It is also known as the night flowering jasmine. The flowers and leaves of this plant have medicinal properties and many people come to our house asking for them.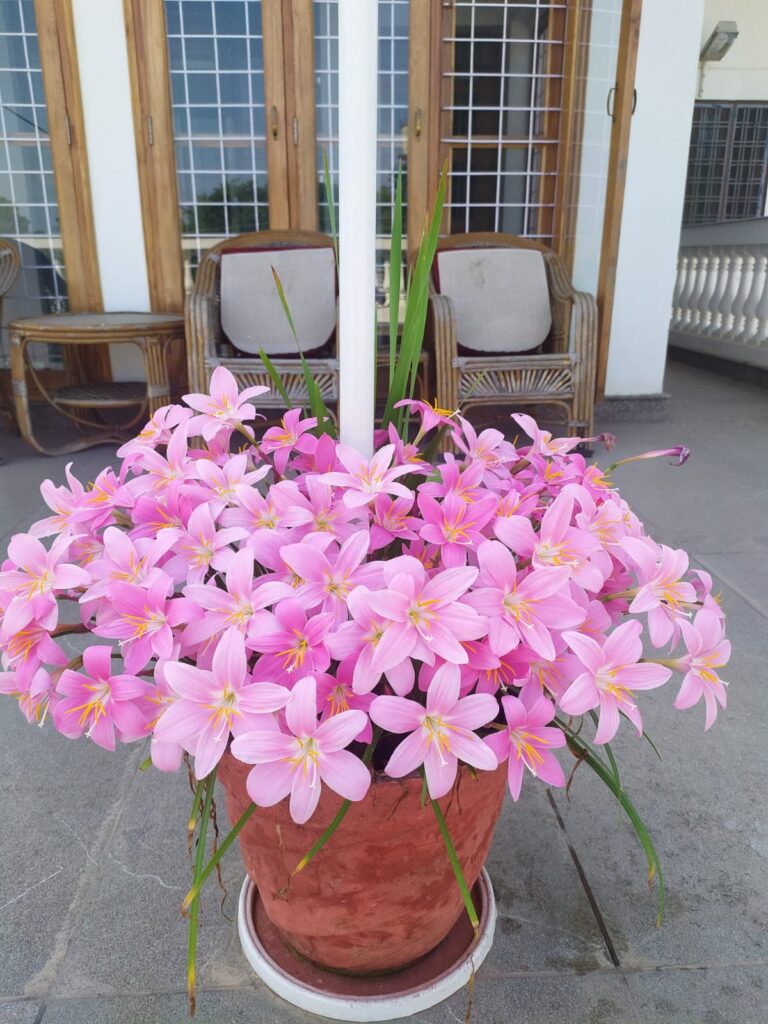 Fragrant trees are a delight. A raat ki rani also adorns our house. Its heady fragrance sometimes wafts its way into our house and we can smell its perfume indoors.
My father-in-law also planted a bay leaf tree. We pluck its leaves, dry them and use them in cooking and also make a healthy herbal tea out of the leaves at home. All these plants and trees need pruning in the month of October. It's like an annual haircut given to them every year which keeps their growth healthy and lush.
Roses are the crowning glory of our garden and our house is full of them. Our rose garden was lovingly planted and nurtured by my father-in-law and I keep this beautiful legacy alive and intact by taking good care of the many rose bushes in our lawns. We maintain a regular manuring schedule and this is usually with cow dung manure or organic manure which earlier we would obtain from our very own cows, but now we take it from our regular milk supplier.
Other than this, it is a delight to grow and eat our own seasonal vegetables, wheat, and rice, so no prizes for guessing that most of the produce on our table comes from our own land. We also have a sprinkling of lemon grass bushes, and a very old mango tree, besides litchi, guava, and lemon trees. We use all of the produce for our personal use.

Taking care of the plants is a daily routine job. Watering them is a regular chore, and once in six months, we add organic manure. As I mentioned before, the pruning after the rainy season keeps them healthy and strong. I make good use of the monsoons to multiply plants that grow well with stem cuttings.
Working with nature has a special benefit. It keeps one feeling young, healthy and happy. It's one of the best ways to connect with God's gift of nature.
---
Anita Shaleen is the Founder Director of the Sanskar International School in Dehradun. She loves to potter around in the lush land that surrounds her house to grow a range of exotic and seasonal flowers.