Karma does not bind one who has scarified all karma in the fire of Yoga, Bhagwan Krishna tells Arjuna. Read NITA AGARWAL's deep insights into Chapter 4 of the Bhagavad Gita
Chapter 4 of the Bhagavad Gita begins with Lord Krishna telling Arjun that the knowledge that He is sharing with him is not new but eternal. It was first given to Vivasvan, the Sun God, and then passed on to Manu and later to Ikshvaku. It was also shared with saintly men in earlier yugas. However, with the passage of the yugas, the knowledge got lost. As Arjun was not only a friend but also a devotee, Lord Krishna said He would share this knowledge with him.
In the ancient tradition of Sanatana Dharma, the shishya can clarify doubts with his guru. Thus, Arjun asks Lord Krishna how He could have imparted knowledge to the Sun God in existence since the beginning of creation when He was born in the current yuga.
Lord Krishna replies that both He and Arjun have been born many times. He remembers each birth, while Arjun doesn't. Lord Krishna then goes on to say that He is imperishable as well as unborn, yet He appears from time to time with the help of the Yogamaya of His own divine powers.
Jeeva is born out of five elements, while Bhagwan is born out of divine energy with no bondage to past karma. Bhagwan incarnates to protect saintly people and destroy evil from the universe.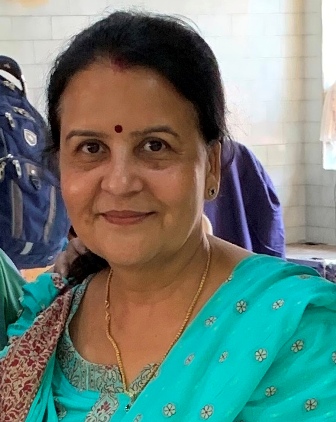 Bhagwan Krishna says that knowingly or unknowingly, people follow His path, only. Those who acquire true knowledge are rid of fear, anger and attachments, and then seek Him. On the other hand, the ignorant ones who seek material welfare, unknowingly serve Him, only, as the world of Maya, too, belongs to the Lord.
Samsaar/Maya Jagat is the manifestation of three gunas: Satva (purity), Rajas (passion) and Tamas (ignorance). Everyone and everything has all the three attributes. Once the layers of ignorance start clearing, one moves from tamasic tendencies towards the higher realm of satvic tendencies. Such a person then seeks liberation from the world of Maya.
Gunas or tendencies dominant in any person decide the profession one chooses for sustenance and survival in this world of Maya. Bhagwan Krishna says that He created four varnas for the smooth running of His creations. People who possessed more of satvic gunas are inclined towards attaining true knowledge and spreading it.
Wisdom and purity defined their persona. They came to be known as Brahmans. While people with physical valour and passion to rule belonged to the Kshatriya clan as they had Rajo guna dominating their persona.
Those who understood finance and dealt in trading of goods came to be known as Vaishyas. Finally, ignorant ones with predominant tamasic gunas were called shudras. They were inclined to work in fields and do physically laborious jobs. These are the four varnas or divisions based on the kind of work people did in this world.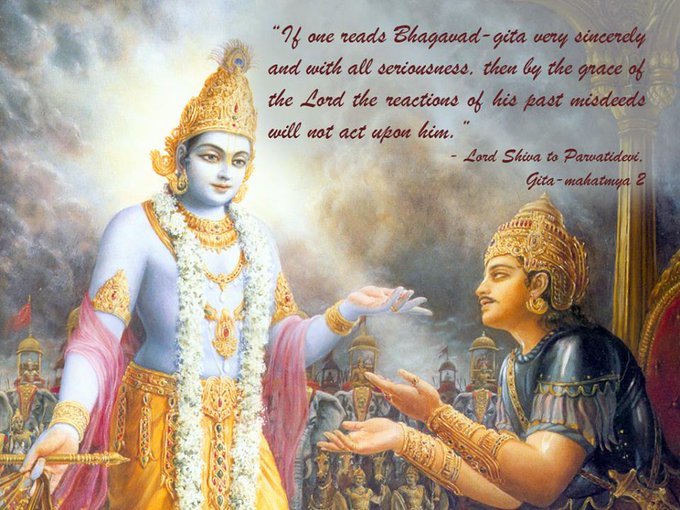 All four have equal importance in society, which would collapse if any one of them did not perform their duty or contribute to the smooth functioning of society. However, later this varna system got converted into caste (Jaati), by birth (janam se), which was never ever part of Vedic philosophy.
Bhagwan Krishna goes on to say that Karma doesn't bind Him; and those who have attained this true knowledge also get rid of bondage to karma. But He makes it clear that one has to perform karma as long as one is alive for the maintenance and sustenance of the body.
Those who know the Truth and are not deluded by the limited identity of I, Me or Mine are able to perform all actions without any attachment to desirous karma phal. Karmaphal of the good karma also doesn't bind them as they do not claim any doership to their actions. They do this as a matter of duty and devotion to Bhagwan Krishna.
Karma can be divided into three categories:
1) Nitya Karma: actions that need to be done like daily chores undertaken for living.
2) Naimittika Karma: special duties for special occasions.
3) Kamya Karma: activities that one does out of desire for material welfare or desired outcome. If one indulges in forbidden duties or does actions forbidden by scriptures, then such activities are called Vikrama … like stealing or killing.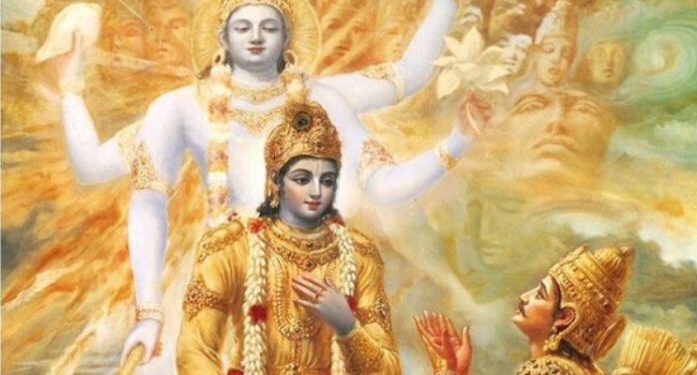 There's another category called Akarma or Inaction. Inaction doesn't mean laziness or avoiding one's duty. Inaction happens when one indulges in karma, but the mind is not rooted in the desired karma phal. When one gives up attachment to karma phal, then one becomes Akarmic even while engaged in duty bound karma. This is the quality of a yogi. A yogi acts, but is never attached to his actions.
Every karma results in some karma phal. A yogi accepts every karmaphal with equanimity. There is neither a feeling of joy nor sorrow. Such a person doesn't incur sin nor is bound to it.
A yogi is a person of perfection, having shed the limited identity of mind, body and intellect. All Karmas performed by yogis bear no future consequences. They are liberated even while living. They are called Jeevan Mukt.
Maya is referred to as Illusion in the material energy of the Supreme Creator. One who understands this and offers all actions in the service of God becomes detached to the fruit of karma and all bondage to it.
Lord Krishna goes on to tell Arjun how there are different forms of yagna or sacrifices that one can do, depending on one's own nature or gunas. Some people worship Devatas with rituals and devotion. It is called Daivya yagna. Some people do Dravya Yagna, which is charity of any kind done out of compassion.
Those who have better understanding of Vedic knowledge offer themselves as yagna, and it is called Atmasamarpan ― complete surrender of the Self to the Supreme Consciousness.
Some do tapa yagna (physical austerities) to control their mind and body by subduing their senses. They practise Ashtanga Yoga/Hatha Yoga to control their mind and senses.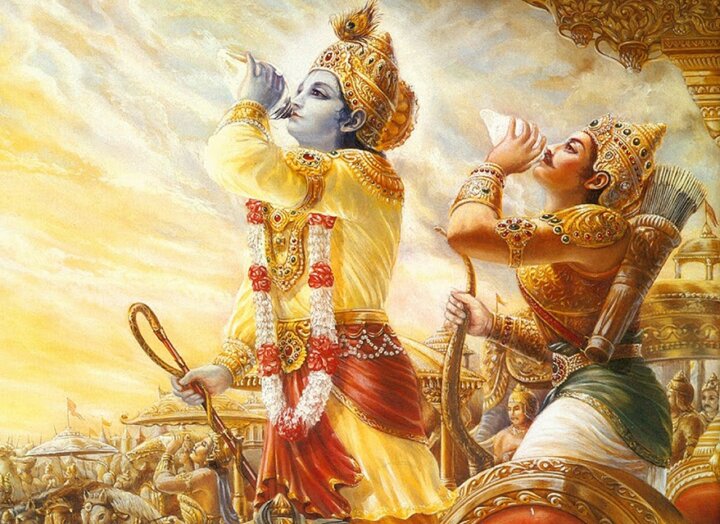 Some practise Pranayama by sacrificing the outgoing breath in incoming breath and vice versa. This way, they regulate the life energy which in turn subdues the senses and the mind. Some control their senses by controlling their food intake or consume bare minimum for mere sustenance of the physical body.
Then there are those who sacrifice their ignorance via Gyan yagna. They follow the path of Sharavan, Manan and Nididhyasana to control their mind and senses via true Self-Knowledge. Sharavan means they listen to the words of their guru, who imparts the knowledge of the shastras.
They serve their guru with devotion. Later by doing Manan they reflect on that knowledge to get rid of doubts that plague the human mind and adapt this knowledge in their living. Finally, they do Nididhyasana, which means disciplined life and meditation, which leads to experiences that take them closer to the Eternal Truth.
All these yagnas help to purify the mind, body and heart, which eventually lead to one getting slowly established in Gyan Yagna. One who doesn't perform any kind of yagna cannot find any real joy either in this world or the next. The real secret of yagna or sacrifice is to do all actions in the service of God and take every karma phal as a blessing.
Different types of sacrifices or yagnas have been described in the Vedas. One can follow these according to one's nature to slowly purify the mind, body and senses. Different paths of sacrifice ultimately culminate in Gyan yagna, where ignorance is sacrificed and one gets established in the Supreme Consciousness to experience eternal bliss forever.
Such a person sees that everything is a manifestation of Bhagwan Himself and everything is within Him. True knowledge helps the sinners of the material world, also to get rid of their sins.
Bhagwan Krishna tells Arjun that after getting true knowledge, he should remove all doubts from his heart. This would help him rise to the occasion and act according to the need of the hour. Ultimately, Karma does not bind one who has scarified all karma in the fire of Yoga.
---
Note from the author: This article is based on a commentary on the Holy Geeta by Swami Chinmayananda and discussions during study classes run by Swamiji's followers that I attended.
---
Nita Agarwal is an ex-Table Tennis State player, qualified teacher, self-taught budding painter and a successful blogger, who writes about her observations of life and people; most importantly, she describes herself as a working housewife.