An army officer's wife and her daughter discover spirituality in mountainous Leh
As an army officer's wife, I have followed my husband on his assignments all over the country, but this is one posting that I will cherish forever, not really because of its scenic beauty, but for a reason that goes beyond the physical realm. After his stint in the plains at quiet Kamptee in Maharashtra, my husband took off for the bright skies and rare air of mountainous Leh, Ladakh. A year later, daughter and I followed him to his desert mountain refuge.
Leh in 2019 was very different from the Leh of 1994, when I had visited him as a newly wedded bride for a couple of months before their unit left for the Siachen Glacier. The present day Leh is a spruced up popular tourist destination with loads of options for every kind of visitor.
I think it's just something about the wide open blue skies, the embrace of the distant brown, yet snow-capped mountains, the rare air and the complete stillness of the environment that lends itself to a special ambience.
We lived at the base of the white Shanti Stupa, always lit up at night with colourful lights, thus serving as a beacon whenever we were driving back from an official function or a touristy outing and looked to orient ourselves on the dark road.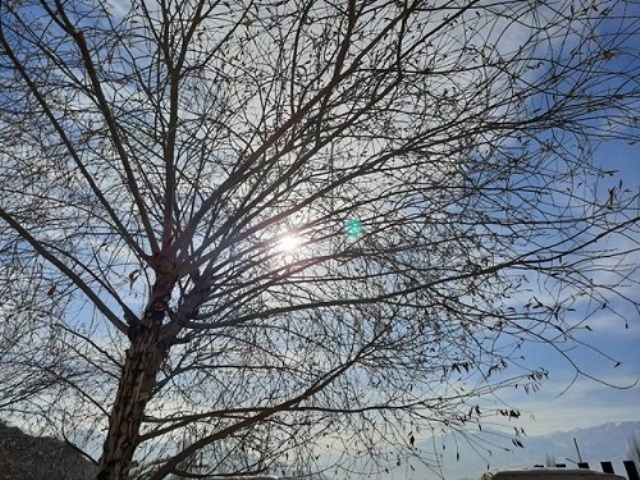 In our small front yard we had a tiny glass gazebo, which was right next to a willow tree with leaves that fluttered gaily in the windy heights. The entire house was surrounded with over 10 apricot trees, laden with fruit during the season. These trees invited birds to visit and it was a delight to observe the antics of the birds as they foraged for food.
It was in such serene surroundings, punctuated with a plethora of prayer flags found on every road and on top of every building as well as the piles of stones layered magically, that I discovered spirituality.
When I came to Leh from Delhi, I felt I was battered by the vicissitudes of my life and was stretched thin inside. It was in the absolute silence of my surroundings that I was able to focus on an awareness within.
I started off small, reciting Om nonstop for 5 minutes. I tried to do this while walking with my husband and ended up walking straight to the Leh shopping plaza, buying loads of stuff.
Next, I decided to seek my daughter Saloni's company in my spiritual journey. Perhaps, it was the refreshing Leh environment that made my daughter shed her preteen rebellious nature and she began chanting Om. She, in fact, progressed faster than me and rose to chanting Om 108 times. I matched her. But honestly didn't feel any instant results. But I persisted, as I wanted to continue on this journey. 
We always sat in the glass walled gazebo while chanting, sometimes facing the brown hill on the top of which sat the Shanti Stupa, with its white dome, always in our line of sight.
At other times we sat facing the fluttering leaves of the willow tree, admiring its delicate stem and leaves. The brown mountain ranges were always visible ― it seemed that they encircled us in their strong stony arms.
As winter came closer, we chanted our mantras with kerosene heaters inside the gazebo, gazing at the snow-capped mountain peaks, which started looking like sugar dusted donuts to my hungry eye or a fudge brownie dusted with more sugar powder.
As the tourists departed, the shops closed and some of the locals left for other cities to continue earning their livelihood during the tough winter months, but we continued our chanting.
The daily chanting became our regular practice and my daughter started asking me to join the chanting with her whenever I was delayed or distracted. I felt the peace and silence of our surroundings centred my soul. I felt deeply peaceful and silent inside. I became more patient, less irritable and even started recommending chanting and mantras to friends.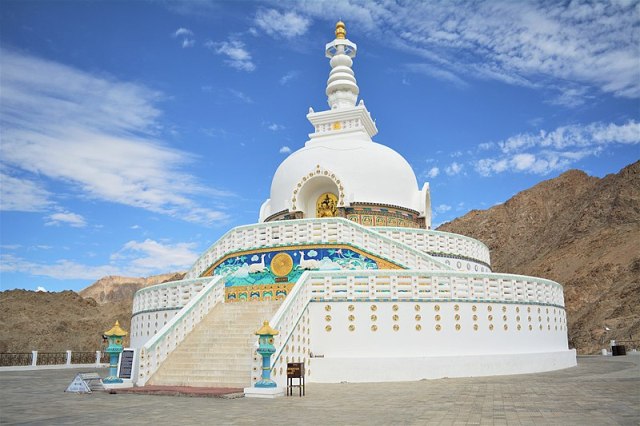 The simplicity of our daily lives helped too. We didn't have the shopping plaza and restaurants in winter. We didn't even have fresh fruits and vegetables. We ate canned peas, dal and potatoes everyday, as the flights carrying rations were few due to the high speed winds that didn't allow the planes to land or take off. Roads were closed; so no food could be expected from that route either. We didn't complain. I started intermittent fasting and ate less; so it didn't matter what was missing. I felt more pure and awakened from the inside. I became a better person.
Then, my husband received his posting orders to another city. We had to leave our peaceful snow-clad mountain eyrie for the dust and hustle and bustle of populous Delhi. It was an emotional parting from the mountains, the willow tree and the Shanti Stupa in whose shadow I had learnt the true meaning of spirituality and found my inner peace.
I will always carry a part of Leh in my heart and soul, no matter where I go. And when I feel like I'm losing my cool, all I have to do is think of the willow tree fluttering in the breeze like my own personal prayer flag ― and calmness will return to my being. And I have a feeling that my daughter, too, carries the spiritual energy of Leh in her being.
---
An offspring of two fauji doctors, Priya Khanna is now a full-time, stay-at-home fauji wife and mother to a teen terror and a gorgeous golden cocker spaniel. When she's not reading, Priya Khanna is likely bingeing on a crime series on Netflix and reminiscing about the time when she was jetting all over the world for her work as an instructional designer with a Gurgaon MNC.