Dr Bimal Chhajer is to India what Dr Dean Ornish is to the US. He advocates reversing heart disease through diet and exercise. This doctor from Kolkata originally came to Delhi in 1986 after completing his medical studies and began his work in Dr Ram Manohar Lohia hospital in the cardiology department. Open-heart surgeries had just become popular in India back then, but within a few years of working there, some incidents prompted Dr Chhajer to research on non-invasive methods to treat heart ailments.
He worked at AIIMS as an assistant professor and also trained in yoga therapy. His research there threw up some interesting facts―that heart patients could not only prevent further hardening of their arteries, but could even unclog them, that is reverse them with exercise and diet. He next trained under Dr Dean Ornish in the US, the world-renowned cardiologist known equally for his pathbreaking book, Reversing Heart Disease, as for his cardiology expertise.
In 1995, Dr Chhajer set up SAAOL, the Science and Art of Living, where he treats heart patients with non-invasive methods. Today, Dr Chhajer has 92 clinics across the country, the largest chain of such clinics in the world. The patients he has helped avoid heart surgery now run into lakhs.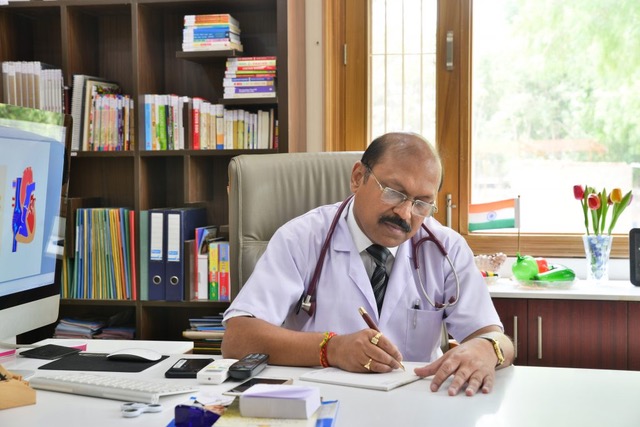 Dr Chhajer urges people to make complete changes in their lifestyle to get on to the wellness wagon. For starters, he holds very interesting workshops and has several Youtube videos teaching people to cook―all without a drop of oil. I attended a workshop of his in the late '90s when he was just starting out. That time, too, his food, was all cooked without oil.
What cooking medium is to be used then? "Use SAAOL oil instead," he says with a twinkle in his eyes. What is that, you might ask. It is plain water. Yes, one can cook with water, and even bhunno or shallow-fry your masala of onions, tomatoes and Indian spices. Check out his youtube video in which he teaches you a simple technique on how you can do that. In fact, he prepares complete meals, down to a sweet dish made of semolina and cooked with no ghee at all.
The lifestyle changes he suggests are very doable, and cost just a fraction of what you would pay for treatment in a fancy hospital. Besides, they are all things one can do easily. Oil-free cooking will benefit the entire family. Research including that done by the pioneering diet guru, Dr John Mcdougall of the US shows that many lifestyle and autoimmune diseases can be gotten rid of by cooking without oil and by eliminating all forms of fat such as oil and butter from your diet.
You guessed right―for this diet to really work, you have to also eliminate dairy, sugars and meats. At least that is what Dr Mcdougall suggests. Try it for yourself, or better still try and catch their videos on youtube. You will find plenty of them there.