PRIYA KHANNA, who grew up as an army kid eventually married an army man. She shares how the army wife copes with those long years of separation when her husband is posted at remote locations guarding the nation's borders
Being an army child, it was but natural that I would marry into the army. In fact, when relatives suggested prospective matches for me, they focused on finding an army officer. Soon I was married and became an "army wife." But as my brand new husband was braving the enemy and harsh weather conditions at Siachen glacier when we got married, it was a while before we could actually set up a home together. So I never actually felt "married" for the first few years. I just moved from one set of parents to another. Once an officer called and asked to speak to Mrs Khanna, I told him to wait for just a minute, while I went hunting for the older Mrs Khanna, who was the only "Mrs" I knew…. Then I realized, I was now both a Khanna and a Mrs. I couldn't stop giggling for a while afterwards.
That became the leit motif of my married identity. I was married, but was mostly on my own for many of the initial years of my marriage, while my husband moved from one non-family station to another. All the stuff I bought for my home stayed packed in trunks and boxes in one location or another, while I continued to live in a single bedroom, now in my parents' home. We would set up home in one city and within 2-3 years he would leave for the border and I would be back to my parents' home. Neighbours would wonder if I was still married or divorced, as I was regularly living with my parents. Then my husband would arrive on leave and they would realise that I was still married!
People would ask how I could live like this, then answer their own question, saying 'Oh, you must be used to this'. Finally, I started replying that I also get used to staying with my husband when he's posted to a family station or even when he comes on leave. We all get used to every state of being. But the change is always hard.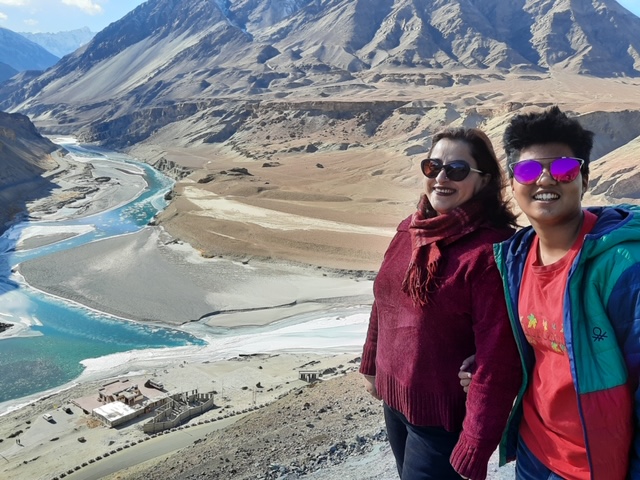 Life moved on and I kept adjusting to living with him and alternating with living without him. After a few years, we were blessed with a daughter. As all daughters do, she asserted her complete dominance on her father and both of them are best friends and do most activities together. However, whenever he has to go away from us on temporary duty or on a non-family posting, she finds it very difficult to adjust to the separation. I observe myself at such times and realise how I have now truly become used to these separations. They don't affect me as they used to in the past. But once he returns, even though there may be no obvious difference to my daily routine, I find that I tend to sleep better with him in the house. His presence brings peace to my soul.
I find this applies to everyone in the house, including our pet dog who suffers terribly when his master is away. No matter how many treats I give him or how much I scratch his ears, the dog runs to wait at the front door for his master to return and I have to keep dragging him back to my room, as I know no one is coming for a while. So, it's not just the army wives who adjust to separations, it's also the army children and army pet dogs who experience the pangs of separation from their beloved family member, an army man!
After all, a home is incomplete without each member of the family. Yet, I wouldn't exchange the army way of life for any other. I accept it all, the good with the bad. I think that is the true lesson I have learnt in my life, to embrace change and accept it for what it is, instead of fretting for what is not or comparing my life with others, because I'm a proud army wife!
---
An offspring of two fauji doctors, Priya Khanna is now a full-time, stay-at-home fauji wife and mother to a teen terror and a gorgeous golden cocker spaniel. When she's not reading, Priya Khanna is likely bingeing on a crime series on Netflix and reminiscing about the time when she was jetting all over the world for her work as an instructional designer with a Gurgaon MNC.
Featured Photo of the Khanna family together in a peace station; the author Priya Khanna (inset).